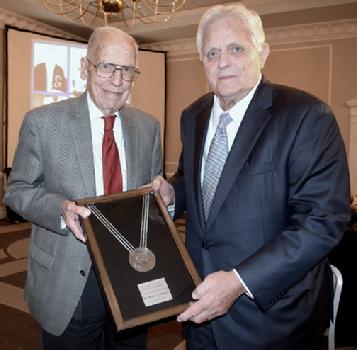 The 2017 Winter-Reed Partnership Award was presented to Dr. Robert Khayat, chancellor emeritus of The University of Mississippi, during a luncheon ceremony on Oct. 17 at the Hilton of Jackson. Dr. Khayat led Ole Miss from 1995 until his retirement in 2009 and has established a legacy of leadership in numerous fields throughout his distinguished career, including academics, law, sports and higher education.
    "One of the attributes of a real leader is the courage to change things that need to be changed, especially in the world of education," said MAPE Past President Phil Hardwick. "Robert Khayat showed genuine transformational leadership as chancellor of Ole Miss at a time when others would have preferred the status quo. His memoir, 'The Education of a Lifetime,' should be required reading not only for educators but for anyone in a leadership position. He truly exhibits the spirit of the Winter-Reed Partnership Award." 
    During his tenure as Ole Miss chancellor, Dr. Khayat was credited with increasing enrollment by 43 percent and bringing more than $100 million in research and development grants to the university. In one of his first acts as chancellor, he arranged for a $5.4 million gift from Jim and Sally Barksdale to establish an honors college. He also established a Phi Beta Kappa chapter at Ole Miss and brought the 2008 national presidential debate to the campus.